6th ANNUAL QUAIL HUNT FUNDRAISER
FRIDAY NOVEMBER 10th & SATURDAY NOVEMBER 11th 2017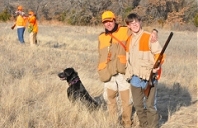 Supporting collegiate shotgun shooters
The Higgins Branchini Shooting Foundation is once again hosting a two-day, two-event Quail Hunt Fundraiser to benefit collegiate shotgun shooters.
This year's fundraiser is again being held at Long Straw Ranch, the beautiful 400-acre licensed game preserve and hunting property in Forestburg, Texas.
Three complete quail hunts will be held over the course of the event.
Cost: $650.00 US per person, per hunt, if registration is received 30 days prior to the event (October 12th 2017) or earlier.
Registrations within 30 days of the event will be $750.00 per person, per hunt. All entries include participation in the Quail Hunt, birds, guides, dogs, and bird cleaning. Lunch will be served on-site for all registered participants.
PAID ADVANCE RESERVATIONS ONLY | ALL PARTICIPANTS MUST REGISTER PRIOR TO ATTENDANCE | NO WALK-IN PARTICIPANTS ON DAY OF EVENT
A downloadable event flyer (in PDF format) is available HERE.
BERETTA RECEPTION
For the 6th ANNUAL QUAIL HUNT FUNDRAISER 2017
Hosted by Beretta Gallery of Dallas
Thursday Oct. 12, 2017 From 6:00pm to 8:00pm
41 Highland Park Village, Dallas, TX 75205
A downloadable invitation (in PDF format) is available HERE.
All proceeds will go to the Higgins Branchini Shooting Foundation. Appropriate IRS documentation will be provided.
QUAIL HUNT FUNDRAISER CORPORATE SPONSORS
• Lone Star Ag Credit • Reata Restaurant
Our heartfelt thanks to Mike Micalleff at Reata Restaurants and Lone Star Ag Credit for your support of HBSF over the years.
SCHEDULED START TIMES &amp HUNT INFORMATION [+]
ELECTRONIC RESERVATIONS
HBSF accepts credit card reservations for our annual fundraiser via the PayPal electronic payment service.
RESERVATIONS BY CHECK
If you would rather reserve your slot(s) by check, please contact us first (via e-mail or telephone) and mail your payment to the following address...
HBSF
7750 N. MacArthur Blvd., Ste. 120-324
Irving, TX 75063
SPONSORSHIP INFORMATION
Take your participation to the next level and become a Corporate Hunt Sponsor
For information about becoming a Corporate Hunt Sponsor at this year's fundraiser, please call or e-mail Mike Higgins at HBSF.